Moog System 35 Modular Synthesizer
A LEGENDARY CENTREPIECE

The Moog System 35 Synthesizer is the heart of Ranum Studio Copenhagens large Modular System.
Produced in 1979, this is a truly magnificent piece of equipment with military grade components, beautifully soldered and mounted in a wooden cabinet.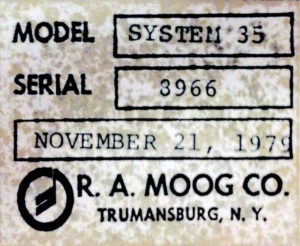 WELCOME TO THE FAMILY
I had the luck of being offered the Moog in 1986, when everybody else was quickly scrapping their modular gear for the latest D-50, M-1, DX-7 or any other of the wonderful digital boxes, that was thought to completely replace the modulars, with their polyphony, patch memory and MIDI interfaces.
The Moog nicely complemented my existing Roland System 100M modular, which fitted perfectly on top of the Moog. This made the system somewhat resemble Keith Emerson's modular rig, which I was a passionate admirer of in my youth.
Upon my meeting with Robert Moog during his visit to Copenhagen in 2006 he kindly signed the synth on the front. In 2014 the synth was rented out to Tangerine Dream, for their Copenhagen live appearance. On this occasion I met the late mastermind of the band – Edgar Froese – who signed the synth on the rear side.
THE CONTROL SETUP
The Moog is MIDI controlled via the Roland MPU-101 MIDI/CV Interface.
Volt/Hertz and S-Trigger converters are used to match the devices.
Type: Hardware
Function: Synthesizer
Acquired: 07-1986