Korg MS-50 Synthesizer Expander
Affordable modular.
I had been enviously looking at the modular synthesizers used by my musical heroes, and stalking the music stores to find a system like the ARP-2600. But it was very far between them in Denmark in the late 70s. So when Korg launched a new range of synthesizers in 1978, it came in the right time. Consisting of future synth classic, the semi-modular MS-20, the more rare, fully modular MS-50 synthesizer expander and the SQ-10 analog sequencer. Each unit could be used individually, but they could also be stacked on top of each other to create a really good looking, flexible and compact modular system, that was even somewhat affordable.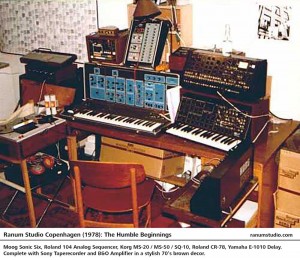 The Korg System at work in the first studio incarnation from 1978.
The MS-50 architecture
The MS-50 Expander is a self contained keyboard-less synthesizer module, with a range of synth functions all accessible by patch points. It contains the following modules:
VCO,
VCF (LPF),
VCA (x2),
LFO, Envelope Generator (x2),
Noise Source,
Divider,
Inverter,
Integrator (Lag Processor),
Ring Modulator,
variable Voltage supply,
Volt-meter, manual
Trigger button,
External input module,
Headphone and Output module and
plenty of multiple jacks.
Also, contrary to the pre-wired MS-20, the MS-50 is built from completely separated modules – only the configuration is fixed.
The single VCO is quite flexible, with individual simultaneous outputs for the different waveforms dual CV Inputs with attenuators. But there is no provision for sync from another VCO and you need to apply PWM for a detuned sound.