Nous Yto – The first Danish all-electronic band
Together with Morten Roger Henrichsen and Jens Walther I created the first Danish all-electronic act "Nous Yto" in 1978 with electronics acts Tangerine Dream, Cluster, Kraftwerk, Eno, Robert Fripp, Amon Düül and Popol Vuh as common inspiration and reference. Later the band was joined by Henrik Lumholdt on string machine and guitar treatments.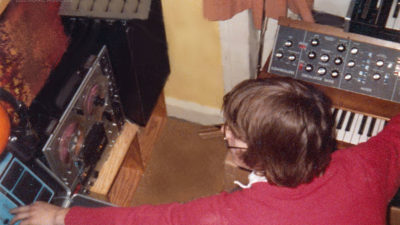 Often performing in white collar coats to underline the "scientific" elements, Nous Yto were generously and nicely supported by the newborn Punk community. So the band did several performances together with leading punk acts of the time – "Sods" (later "Sort Sol"), "Ballet Mechanique" (with Martin Hall), "Ads" (with Lars Top-Galia), "City-X" (with Hanse Qrt), "Gatecrashers" (with Ziggy), "Prügelknaben", "Bollocks" (with Jens Meiner)  etc.
"Rockmaskinen" in Christiania.
Ungdomshuset, Jagtvej 69, Copenhagen.
Huset, Magstræde, Copenhagen
Club Gemini, Roskilde
"Zigeunerhallen" Prater – Stengade, Copenhagen
Concert of the Moment, Saltlageret, Copenhagen.
IKLIPX – Strictly underground
The Copenhagen underground punk fanzine IKLIPX did a feature on Nous Yto in 1979, written by old friends Knud Odde and Tomas Ortved of Copenhagen punk pioneers "Sods" (later "Sort Sol"). It boldly claims that the band was partly a product of the scout movement, which again was a very anarchist movement, and thus fitted into the target audience of IKLIPX.
The IKLIPX fanzine was distributed from the "SuperLove" record store in central Copenhagen – a meeting point for the underground.