Power Management in Recording Studios
Hardware needs power
If your recording studio is full of hardware boxes, each with their own power supplies, it will consume a decent amount of total power. Some devices need to be powered constantly, while a number of devices are probably seldom used. Some devices are prone to failure if left constantly on, others are known to occasionally break down when turned on.
Save money – and the environment
Breaking down your power consuming devices in logical groups can save energy and money, and extend the life of your devices. When devices are clearly segregated, you can gain a lot by making an individually controllable power switch for each logical device group .
Hidden Villains
Pay special attention to external power supplies ("Wall Warts"), since they produce heat, are more prone to fire, and can easily be forgotten on hidden utility devices.
3 examples of differently sized power control systems:
BASIC CONFIGURATION (5 Groups)
Always: Servers, Routers, NAS Drives, Service Lights.
Essential: Mixing Desks, DAWs, Tape Machines, Amplifiers, Loudspeakers, Lights, Aircons
Often: Effects processors, keyboards, guitar amps, tuners.
Occasionally: Special processors and instruments, TV Monitors
Variable: Studio Lights
EXTENDED CONFIGURATION (10 Groups)
Servers, Switches & Routers
Workstations
Keyboards
Outboards
Video
Speakers
Device Chargers
Studio Lights
Aircon
Servicing Lights
LARGE CONFIGURATION (20+ Groups)
Servers, Switches & Routers
Audio Workstations
Video Workstations
Video Displays & Peripherals
MIDI Devices
Sound Cards
Mixer & accessories
Keyboards
Modular System
Basic Outboards
Extended Outboards
Monitors & Speakers 1
Monitors & Speakers 2
Office Devices & Peripherals
Device Chargers
Studio Lights 1
Studio Lights 2
Studio Lights 3
Aircon
Servicing Lights
Ranum Studio Power Solution
My own large electronic music system is divided in more than 30 different power strings – each with their own control.
This makes it much easier to control your power consumption, and saves your equipment from wear. When the studio is shut down for the night, only the absolutely necessary devices are left powered. And depending on the requirements of the session, sections are turned on as needed.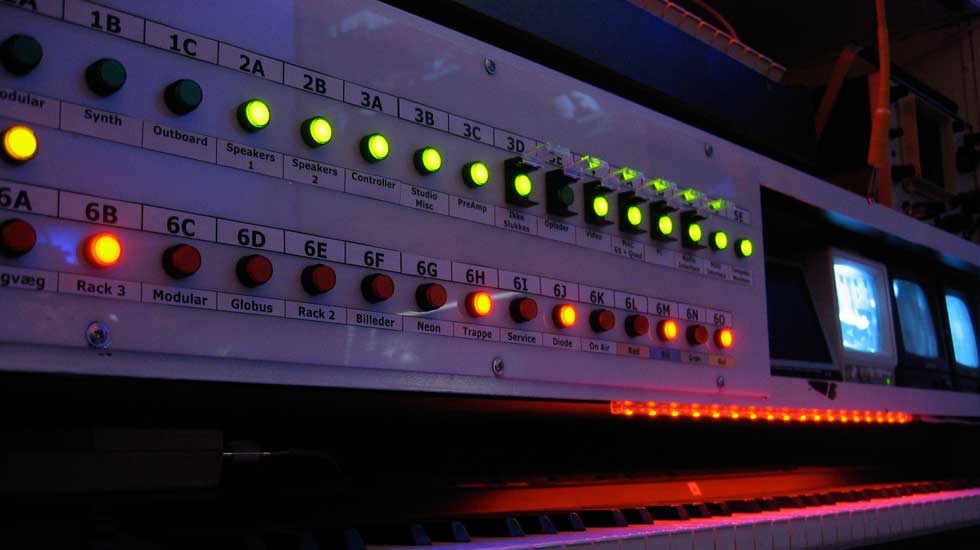 Central relayed power control panel in Ranum Studio Copenhagen. Green buttons: Device groups. Red buttons : Light groups.