Synthesizer Heroes: Roger Powell
Recording pioneers
One of the pioneers in brnging synthesizers into mainstream music, american keyboardist Roger Powell worked with both the Moog company and ARP instruments on various designs.
He showcased his abilities on a solo album in 1973. A year later he joined American guitarist and producer Todd Rundgren's band "Utopia".
The style was prog with a rock backbone and a lot of synthesizers.
Powell handled the keyboard setup, consisting mainly of synthesizers, including Moog and Arp modular systems. Taking these to the stage was not for the faint hearted, but Powell took on the challenge.
He has also worked with software design, including very early MIDI sequencers for the PC, and even worked for Apple.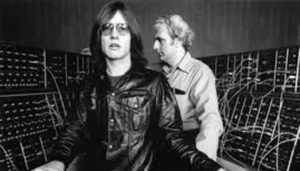 Roger Powell with Bob Moog ca.1974, after taking delivery of a custom Moog System, with dual System 55 cabinets.