Linn LM-2 "LinnDrum" Drum Machine
Thud-tick-whack-tick…
The LM-2 drum machine from Roger Linn is an absolute classic, and the model you probably refer to when mentioning "LinnDrum". Incidentally this is also printed in large letters on the front. When first launched it was considered to be one of the most realistic sounding drum machines.
Countless classic hit records have been made with – or built around – the beefy Linn sounds. The iconic beat from Michael Jacksons "Billie Jean" is a good example.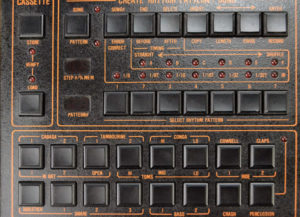 Building the groove
Operating the LM-2 is pretty straight forward with pattern/song based recording process.
Patterns have to recorded in real time, but can be quantized to perfection.
Select beat resolution
Record and refine a pattern
Proceed to the next patterns, until you have all variations
Chain the patterns into a song
The buttons are velocity (accent) sensitive to allow for some dynamics.
Expanding the sound set
Besides the factory sound set, you can get different sound sets on EPROM chips. These have to mechanically replace the chips from the factory sounds, and will be triggered instead. With a proper EPROM burner you could even make your own chips. So important producers brought a small bag with "their" Linn Sounds to use in sessions.