Moog MoogerFooger FreqBox MF-107
Two minds alike
In a famous collaboration with Harold Bode, Robert Moog and Bode constructed a Frequency Shifter, that was an optional and special module for the Moog Modular systems. It found it's place large systems like Keith Emerson's, but is quite rare as a module.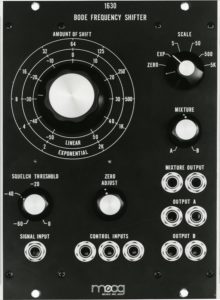 The original modular Moog/Bode Frequency Shifter
Pedalize it
As part of their MoogerFooger range of pedal style processors, Moog produced the FreqBox MF-107, which builds roughly on the same principles as the Bode, but with a scaled down feature set.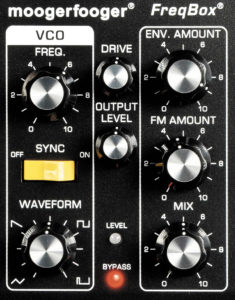 Like the Bode unit, the MF-107 has got an internal VCO with selectable frequency, sync and waveform.
The middle section contains the input drive and output level controls. Raising the input Drive adds a nice analog overdrive to the input, which brings a lovely grit and filth to the table.
The Envelope Follower reads the audio input and converts it into a CV that can modulate the VCO frequency with selectable range.
And the FM Amount button control how much the VCO should affect the input signal.
Part of something bigger
The obvious use for the FreqBox is of course as a pedal, with it's large stomp button clicking reassuringly on moderate pressure.
But you may just as well consider it a part of your modular system, since it accepts voltage control over Frequency, Waveform, Mix, Envelope and FM Amount parameters via its Jack sockets on the rear. Furthermore you get direct out jacks for the Envelope CV Signal and the VCO. So a full modular connectivity – but with a somewhat odd physical size to blend in properly.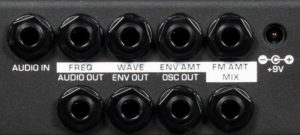 .