Roland MC-4B Microcomposer
A big – and more expensive – step up from the standard monophonic digital sequencers of the days were the multichannel MicroComposers from Roland.
First launched was the MC-8 MicroComposer, which was big, bulky and very expensive. Prominently used by e.g. Kraftwerk, Human League, Giorgio Moroder, Isao Tomita and other heavyweight electronic composers, the MC-8 allowed for sequencing of 8 different, independent monophonic CV/Gate signals simultaneously. This of course required a big setup of monophonic synths to fully utilize its potential. You would then be rewarded with the ability to create polyphonic and/or multitimbral orchestrations from your synths, without having to use a tape machine. In that sense it was a predecessor to the Digital Audio Workstations (DAW) that later became the standard for producing electronic music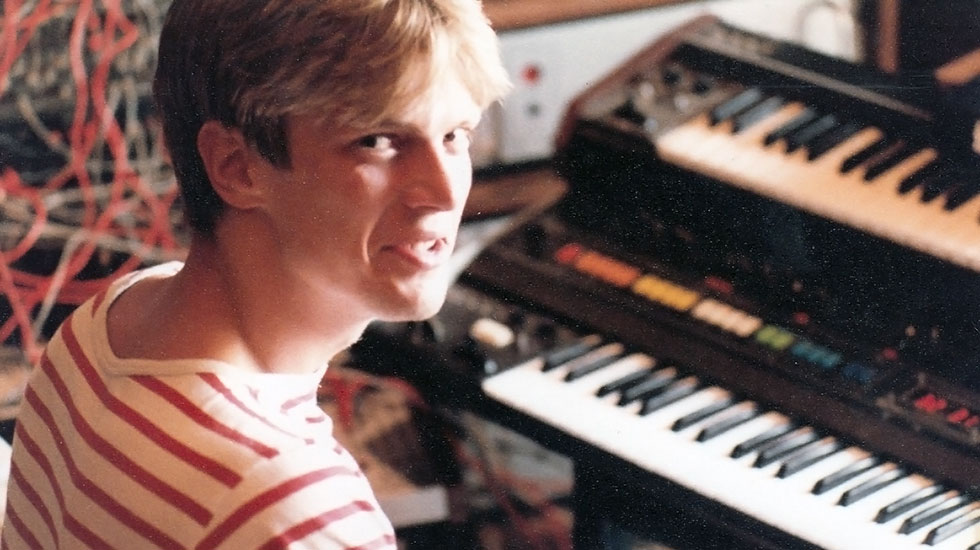 At the keyboards in Puk Studio 1984.
Roland MC-4B in bottom left.
A little later Roland launched a little brother – the MC-4 – which was considerably lighter and less expensive, while still providing 4 independent CV/Gate streams, plus an extra "Dynamics" CV for each channel. I invested in the MC-4B ("B" for expanded memory) to go with my Roland System-100M modular system, and used this heavily for some years. It would also drive my Roland SH-5 and SH-01 synths – both featuring CV/Gate inputs. Around the same time I acquired the mighty Roland Jupiter-8 polyphonic synth. This could be digitally accessed via a proprietary digital bus format, developed by Roland (Digital Communication Bus – DCB). With the addition of a DCB expander, the MC-4B could sequence my Jupiter-8 also – with different timbres from the upper and lower synth engines.
The MC-4B was also a very good partner to the Roland TR-808, with the two forming a strong a reliable rhythm section via the DIN sync connection.
Entering data in the MC-4B became second nature after a while. With 96 subdivisions on each bar, you had to make sure that the numbers added up correctly. Otherwise the timing would be offset – which of course can be used creatively. Actually it was rather like working at the cash register in a grocery store, with numerous fast keystrokes on the numerical keypad.
Keyboard data can also be recorded in real time. The recorded results can subsequently be quantized and edited by hand. In the editing process you can also add dynamics to notes by using the separate CV output for this.
https://en.wikipedia.org/wiki/Roland_MC-4_Microcomposer