V-Trigger to S-Trigger Conversion
A Moog speciality
The earlier Moog synths uses a trigger system that is different from the mainstream. Today almost all synths use the standard +5V gate impulse for this purpose. But the Moogs use the S-Trigger instead, where the voltage drops to zero.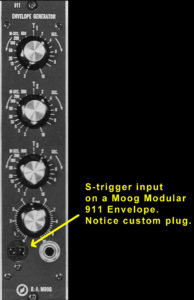 Devices capable of sending triggers, may have a built-in setting that changes between the 2 formats.
Converting triggers and gates from e.g. Eurorack and Roland gear can be done with a simple cable with a few components.
This can be purchased from established modular synth outlets, like Schneiders Laden in Berlin.
If you are handy with a soldering iron  you can also make one yourself quite easily.
[gdlr_frame type="border" align="left" caption="Solder your own S-trigger converter"][gdlr_image_link type="image" image_url="https://ranum.dk/wp-content/uploads/gear-moog-s-trigger-converter-287×300.jpg" link_url="https://ranum.dk/wp-content/uploads/gear-moog-s-trigger-converter.jpg" alt=""][/gdlr_frame]
[gdlr_divider type="solid" size="50%" ]
Moog models using the S-Trigger system
Moog Modular System 15
Moog Modular System 55
Moog Modular System 3C
Minimoog Model D
MicroMoog
Moog Liberation
Moog Source
Moog Taurus
Moog Prodigy
Moog Rogue
Moog Sattelite
MinitMoog
Moog Ribbon Controller
Moog Sample & Hold Controller
Moog Drum
Moog 1130 Drum Controller