DéFilm – Live keyboard rig – v2
Taking the very synth heavy DéFilm production on the road was no easy task in 1985. The keyboard rack required massive synth power and total recall while still being roadie-friendly and stable enough to handle the rigours of the road.
For this purpose some truly special and spectacular flightcases were built by Dansk Studio Teknik (Lars Sorner and Jan Pelle) – also to be known as "the white boxes". Featuring loads of synth and effects modules, internal wiring, ventilation, backside connectivity and special drawers for sequencers and drum machines, the racks were almost a complete rack mounted studio by themselves. The construction was a special box-in-a-box system, where the outer box could be lifted up and removed to reveal the inner part. The outer boxes could then function as keyboard tier and table when not in transport.
The gear included in my dual white racks was:
2 x Roland MKS-80 Super Jupiter with MPG-80 Programmer
Roland MKS-30 MIDI Synth Module
Korg EX-800 MIDI Synth Module
2 x Yamaha TX-7 FM MIDI Synth Modules
Roland SVC-350 Vocoder w.headset mic
2 x Roland MSQ-100 MIDI Sequencers w.cassette interface
Roland SRV-2000 Reverb
Roland DEP-5 Digital Delay
Roland TR-707 Drum Machine
Ensoniq Mirage Sampler Keyboard
Roland JX-8P MIDI Keyboard Synth
Roland Axis-1 MIDI Performance Keyboard ("KeyTar"-style)
Beside my 2 racks, Lars Nygaard and Søren Riis-Vestergaard each had a similar rack. Lars' rack contained the electronic Simmons drums unit, some reverb units and a mixer. And Søren's rack contained the his guitar synthesizer plus a string of effects units, controlled with a pedalboard.
My 2 white racks survived well into the period of opening my studio, where they served as ordinary studio racks for 4 years before being replaced with custom tailored studio racks.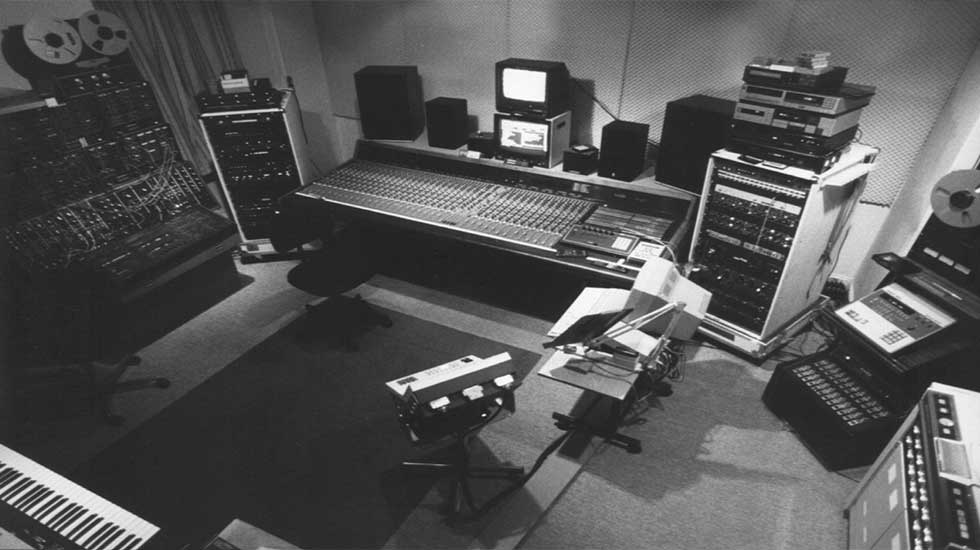 The white racks installed in the Studio (version 6).
When moving to the large Studio space of version 7, the cases were sold and replaced with custom built furniture shaped rack cases.